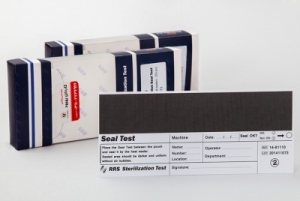 Paper test
Instruction
1- Turn on the sealer device and allow it to reach to its appropriate operating temperature
2- separate about 10 cm from the roll of one package
3- Place a sheet of sealer test between it and pass through the sewing device Conclusion: The part passed through the device must have a continuous and darker line than the other parts, and no bubbles are visible.
Notification
1- The quality of the seal steps should be verified by using the test paper and ink, and then archived.
2- Having a regular and intermittent monitoring program makes it fast to detect any changes or problems in the packaging process.