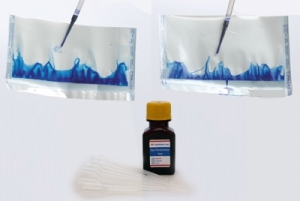 Testing of Sealer Device
Performance of the sewing and packaging device should be evaluated. Roshan Rai Sepahan .Company has designed and made two test methods to evaluate the sealer device
1- Sealer Ink Test
RRS Ink test is a standard and ideal method for leak detection in medical sterile packages that by using of penetration of ink into porous surfaces provide the possibility of detecting the leakage points
Instruction :
1- Turn on the sealer device and allow it to reach to its appropriate operating temperature.
2- Cut about 10 cm from the roll of one package and seal one side.
3- Using of dropper, up take about 2 ml of the ink and pour it from opening side ofthe packaging.
4- Then rub it with your hand to expose the entire of package with the ink.
5- After 20 seconds, check the gaps of package to make sure it is sealed.
6- The ink leakage in the gaps will be visible easily.
Conclusion: If the ink does not penetrate into the sealed area, it indicates the sewing is healthy.